Maintain yards, paths, terraces
Throughout the seasons yards, paths and terraces become covered with all sorts of weeds or sand blown by the wind. In winter there may also be snow to cover paths. Clearing snow from around the house and the drive to the garage will soon become essential in order to carry on normal activities; in all these cases you need to right tools to act quickly and effectively.
Sweep yards, terraces, and paths

To remove plant debris left after a storm on a tarmac path, keep paved terraces perfectly clear despite the sand blown by the wind, to sweep a yard after cutting ornamental hedges or to simply clear the workshop after DIY work, nothing can be more effective than a broom adapted to each case.
To meet the requirements of each of these situations Leborgne offers different types of brooms for outside work adapted to the type of waste and the type of ground needing sweeping :
For forceful sweeping of large or heavy debris (stones, sand..) on rough ground (rough concrete, tarmac..) it is best to use a broom with rigid bristles such as a road sweeper's broom or scraper broom.

For light sweeping of small debris (dust, wood shavings..) on smooth, mainly dry, ground (paved terrace, smooth concrete garage floor..) it is better to use a broom with soft bristles such as a rice straw broom or medium road sweeper's broom.

For sweeping large areas, it is much better to use a wide span broom (60cm) made of PVC fibre which will not require tedious sweeping to and fro.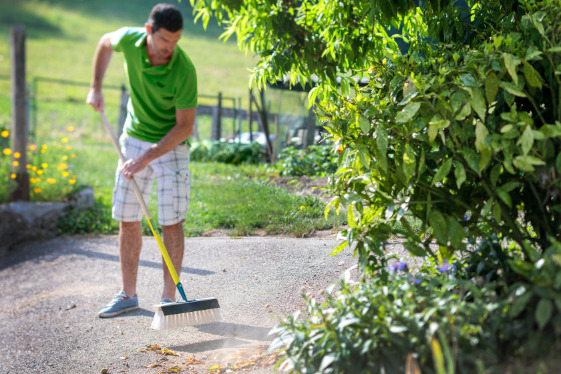 Clearing snow with tools made from Polymer material
Although people have traditionally used to using aluminium tools when clearing snow, more and more often users are turning to tools made from polymers which present many more advantages in different domains.
First of all polymer tools wear out in a much more regular way than aluminium tools. This means that users can continue to use them even when they are worn. The opposite is true of aluminium tools which tend to wear out in a much less regular way, in particular on the leading edge, this means that users must cut them or grind them regularly in order to be able to continue using them.
Secondly polymer tools are considerably more comfortable than aluminium tools. It is a fact that they are lighter, less noisy during use when they scrape on the ground, not as rigid as aluminium tools and so less likely to bang into an obstacle such as a man-hole cover or to scratch floors, for example wooden floors.
Lastly, polymer does not stick as much as aluminium and therefore snow does not stick to Tools.

For large volumes of snow, you will find the Vmax polymer shovel indispensable with its large capacity (6 litres) its light weight (1 kilo without the handle) and its very long handle.
By choosing the version with Compositube handle, you benefit from extra strength and less weight.
The snow pusher and the snow sledge are suitable for clearing snow from large areas by pushing the snow directly with the tool. Finally the car shovel is compact and perfect for keeping in your car.